Breakfast with the Pros returns this fall with new speakers and returning favorites! Join St. Cloud Main Street the second Tuesday of each month as we bring in speakers to educate, update, and inspire our community, residents, and business owners. This year the series will take place at VFW Post 3227 in the heart of historic downtown St. Cloud with breakfast provided by Chick Fil A and sponsored by Land Title Professionals.
To kick off the season we will be hosting Melissa Wylie from the Florida Trust for Historic Preservation on October 10th. Melissa will be presenting information on our new designation on the National Register of Historic Places and what that means for St. Cloud and building owners within the district.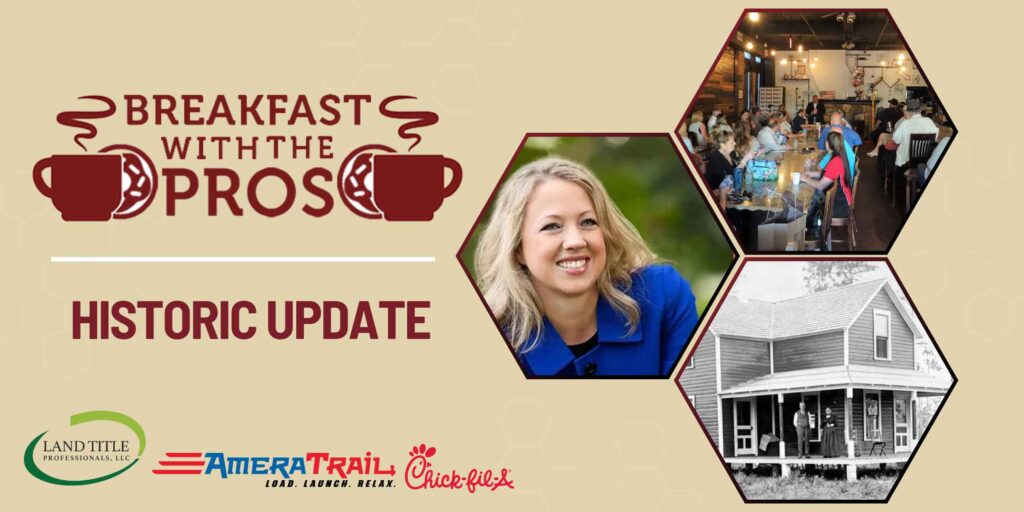 Other new speakers this season are Dr. Mark Shanoff with the Osceola County School District, Jay Bemiller who will talk about podcasting and marketing for small businesses, and Osceola Health will be bringing in a nutrition specialist.
Some of our popular returning speakers include Veronica Miller with the City of St. Cloud, Chief Goerke with the St. Cloud Police Department, Chief Miller with the St. Cloud Fire Department, Sheriff Lopez with the Osceola County Sheriff's Office, and Commissioner Ricky Booth.
If you are interested in attending these free events we request that you RSVP for them here so that we can ensure we have plenty of breakfast for everyone. Additional speaker and topic information will be released prior to each event.
We would like to thank all of our sponsors of this event Land Title Professionals, Chick Fil A, Ameratrail, Elite Metro, Osceola Engineering, Edward Jones – Kerry Scott, Orlando Health – St. Cloud, and Lewis and Massey, P.A.